USS Jallao SS-368

Memorabilia Page

 

A Jallao qualification card from 1963, Contributed by Ernie Smith
Commissioning Deck Log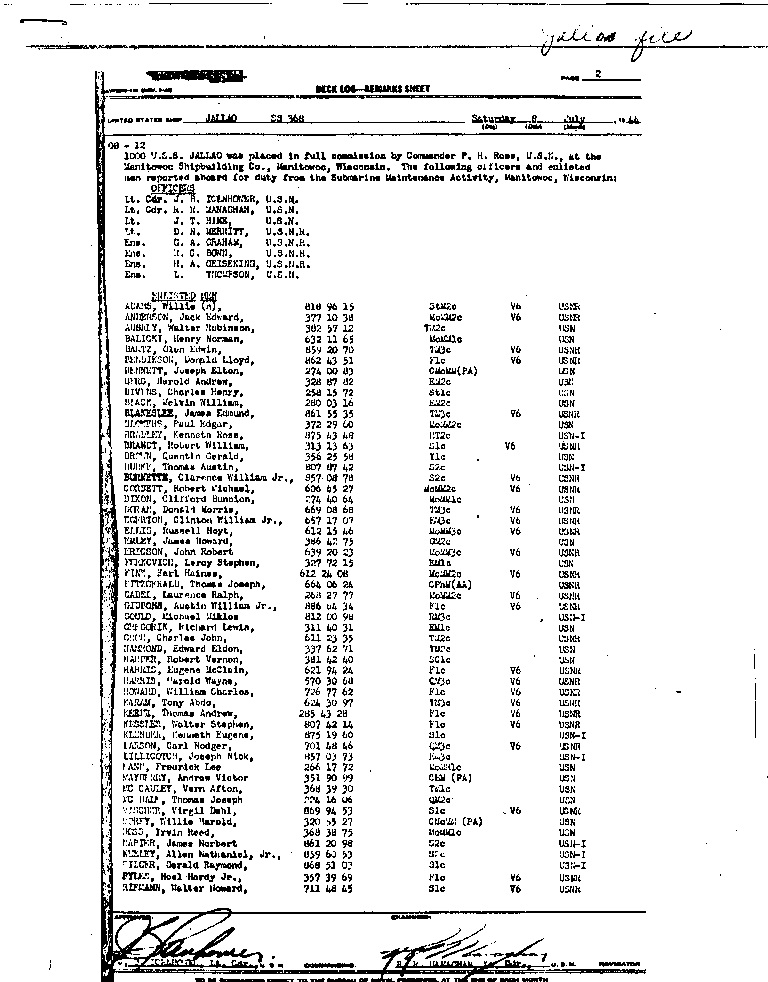 Deck Log SS368, July 8th, 1944
Commissioning Crew List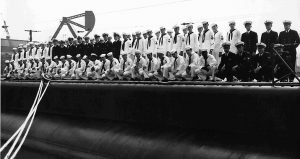 Jallao Commissioning Crew, 1944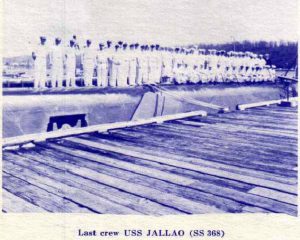 Cards  (covers) contributed by Steve Marquis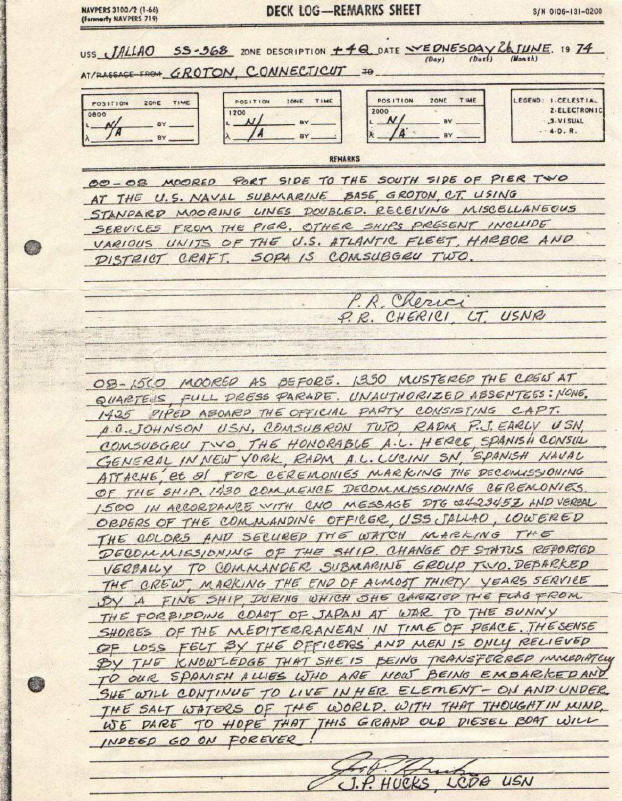 The Jallao's final deck log entry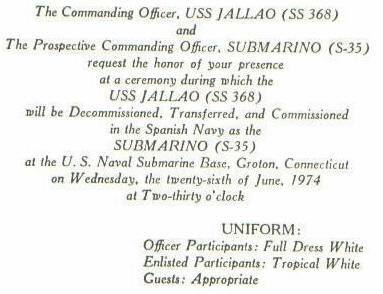 Decommissioning invitation
Contributed by Mike Brand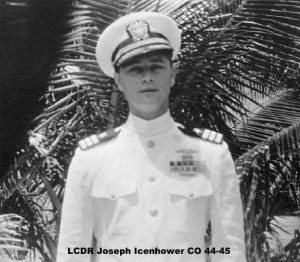 Joseph B. Icenhower Jallao's first skipper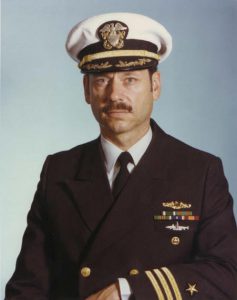 Commander Gil Carlson, Jallao's last skipper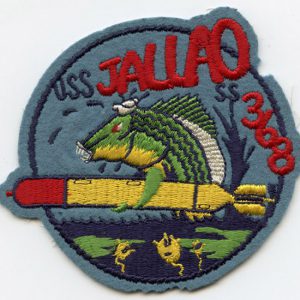 A Jallao patch from the 50's
Sent in by Roger Gibson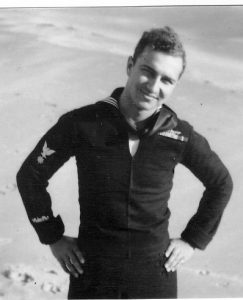 Plankowner Jerry Pilger, 1944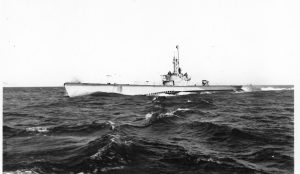 USS Jallao on Lake Michigan in 1944, submitted by Jerry Pilger
This card commemorates The Jallao's 5000th dive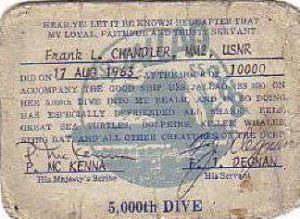 Contributed by Frank Chandler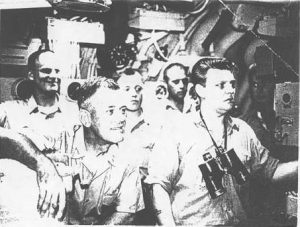 Back L to R, Lt. Satterswaith, TM1 Terry Parsons, MM2 Frank Chandler Front Adm Donald Gay and TM1 Don Tetschlag, Diving Officer on Jallao's 5000th dive August 17, 1963
Contributed by Don Tetschlag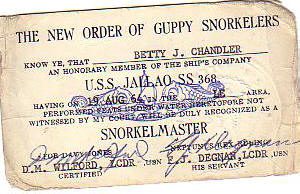 Contributed by Frank Chandler
~~~~~~~~~~~~~~~~~~~~~~~~~~~~~~~~~~~~~~~~~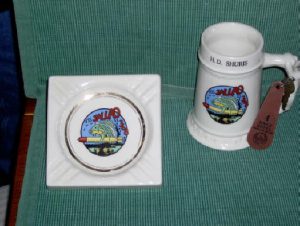 Those that were aboard in July of either 1959 or 60 will recognize the room key from the infamous Eastport Hotel in Eastport, Maine. They had to wipe the dust off of the beer bottles before they served them up.
Contributed by Harry Shuris
~~~~~~~~~~~~~~~~~~~~~~~~~~~~~~~~~~~~~~~~
The Submariners Wife
Subvets of America unveiled a stone memorial to honor Submarine Wives inOcean Springs, MS. This memorial was dedicated to the wives who supported us so gallantly while we were at sea. Thank you for supporting us!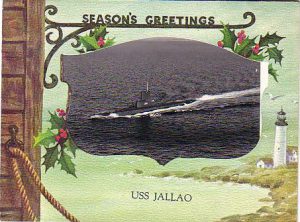 A postcard, contributed by Frank Chandler

Contributed by John Lundquist FTCM(SS/DV) Ret.

Northern  Europe Cruise
USS Hardhead–USS Jallao–USS

Picuda
Contributed by McMills

Jallao entering Malta in 1967
    Contributed by McMills 


Our girl again
Contributed by Mule Harkins and his daughter, Cindy O'Neal

Three photos above contributed by John A Lindquist

From the 1971 Med Cruise Book, Contributed by Joel B. Parris

Contributed by John A Lindquist

Contributed by John A Lindquist

Here she is, decks awash, on the Thames in July 1960
Contributed by Richard Fritz QM2SS, Richard took this picture from the railroad bridge when he was 12 and later sailed on the Dogfish SS350 in 1971-72. He was on the decommissioning crew on 7/8/72
 
Contributed by Jerry Pilger

This marker was sponsored by the USSVI Peoria Base and placed  the riverfront of the Illinois River in Peoria Illinois. It was placed there to honor the 28 boats built in Manitowoc.  The boats actually went past this spot on there way to the war.
Contributed by Ernie Smith