| | | |
| --- | --- | --- |
| | Frank Chandler | |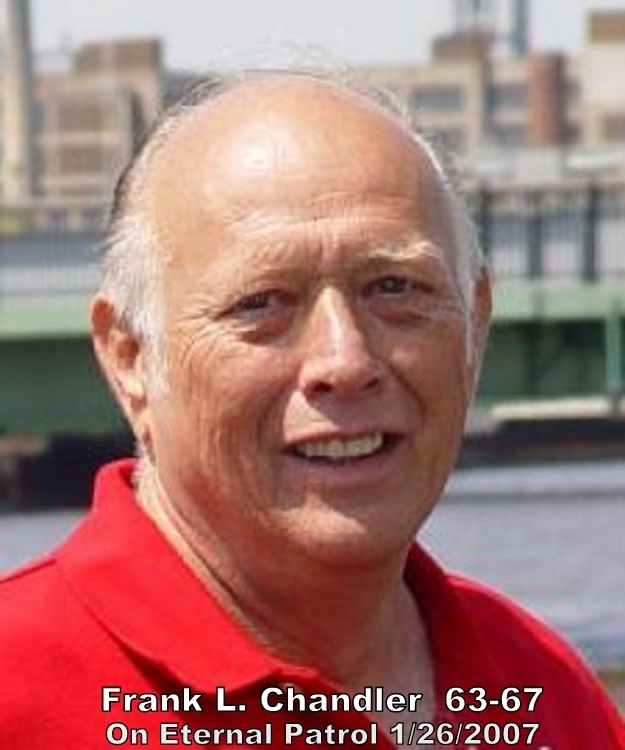 On "Eternal Patrol" January 26th 2007
"Sailor Rest Your Oar"
"A poignant letter composed by Larry and Roberta Musto"
It is with a heavy heart that I write this. Roberta and I were stunned by the news of Frank's passing and want to convey our heartfelt sympathy and condolences to Betty, Michelle, family, shipmates, and friends. We are terribly sorry that we can't be with you today to honor Frank and his life. It is never easy to say goodbye to someone who meant so much to so many. We have lost a beloved husband, father, shipmate and friend, but memories of him that we hold so dear.
I first met Frank when I checked aboard my first submarine, the USS Jallao in New London, Connecticut in the summer of 1965. I was an impressionable 18 year old setting out on what was to be a long Naval career in the submarine force. During the check in process, I met MMI (ss) Frank Chandler. As a young non-designated, non-qualified sailor, my first impression of him was of dazzled awe, I watched as he went about his duties and how he carried himself, professional, confident and always alert. His quick smile and helpful demeanor were hallmarks of his leadership style and he quickly became a mentor and hero. Frank was a valued, treasured friend to all who knew him.
To Betty, he was a beloved husband, to Michelle, a loving devoted father. To all of his family, our thoughts and prayers are with you.
To his shipmates and friends, he was a shining example of what a Submariner and Navy man should be: competent and courageous, tough and dedicated, yet understanding and compassionate to those needing a helping hand, including this young non-qualified sailor.
Frank was truly committed to serving his country and the Navy. He always strived to be the very best that he could be. He was never satisfied with mediocrity. He had a insatiable thirst for knowledge and self-improvement, studying and advancing through the ranks and achieving a direct Commission to the Officer Ranks. He served with distinction, dedication and devotion to duty in an illustrious career that saw service worldwide. He had the same level of commitment when he and Betty put together the best reunion ever for the Jallao shipmates and their friends and families in Manitowoc, Wisconsin that even included the plank owners or original crew members. This reunion is still talked about today and very much appreciate by all. Frank and I were shipmates, but soon we and over wives become friends. We visited each other in our homes, and the words "Betty and Frank" rolled easily in conversation, always together.
Many young men have their heroes, those whom they look up to and try to emulate. They may even seek them out to get their autographs or a picture. I lost one of my heroes in Frank Chandler, I have his pictures, the memories and even his autograph, which is his signature on my qualification card that helped me attain my dolphins and become a Submariner.
Frank, you were a great mentor and a beloved friend. We celebrate your life as one with many accomplishments. Thank you for touching all of us and giving us the joy of knowing you as a dear friend and shipmate. We take great comfort in knowing that you are now sailing with fair winds and following seas and resting in the presence of God. We will think of all you have given us and your spirit will live on in all of us.
Your friends in eternity,
(signed) Larry & Roberta Musto