USS Jallao SS-368

2019 Reunion

May 6, 2018
Hello Shipmates,
Please mark your calendars and plan for the biennial reunion of the USS Jallao (SS-368) to be held on March 13-17, 2019. The reunion will be held in the beautiful Muscle Shoals area of Northwest Alabama, near the big Tennessee River. There are many things to see in our area as you can tell from the pictures attached. The reunion headquarters will be in Tuscumbia, Alabama at the Coldwater Inn. Room rates are great at $98.79 per night (including tax, double occupancy). This is a nice hotel and the management looks forward to helping us enjoy our reunion. More info on registration and the reunion schedule will be available by early fall 2018.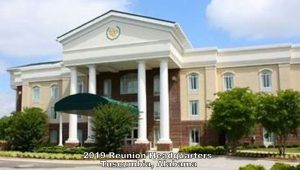 The Muscle Shoals Area in northwest Alabama is made up of four towns–Florence, Muscle Shoals, Sheffield, and my home town, Tuscumbia (birthplace of Helen Keller). We look forward to seeing you in March 2019 in Alabama.
We want to plan our reunion around your interests, so please let me have some feedback by e-mail or phone about what interests you from the site seeing places we've included. If you have any questions, feel free to contact me.
2019 Reunion Host
Joel Parris, USS Jallao (1971-1974)
256-577-6968 (cell/text)
jbparris@comcast.net
1000 William F. Gardiner Ave.
Tuscumbia, AL 35674
P.S. to Steve Croom: "Yes. We do have indoor plumbing in Al-a-bam-a!"